What is a jewelry setting or jewelry mounting?
A " jewelry setting" is a piece of jewelry, usually made of metal, that is complete- except for the stone or stones. This can be any type of jewelry from a ring, to a pendant, earrings, a pin, etc. The jewelry piece may include several findings, such as the shank of a ring, a prong head for the stone, a bale on the pendant, etc. (We discussed findings, or the parts that make up a jewelry piece, in last month's blog: Jewelry Findings Explained.)
A jewelry setting refers to the total jewelry piece including any filigree accents, sometimes side stones, engraving, or any other custom designer work. Most people believe the terms "jewelry setting" or "jewelry mounting" are interchangeable. Some people say the term "jewelry mounting" refers just to the part that holds the stone-such as the prong head or the bezel part. The word mounting comes from the action of mounting the stone to the metal. To keep it simple we will from now on just use settings.
We also discussed the types of metals used for jewelry in previous blogs, click on the following to review:
Guide to Metals Used in Designer Jewelry Making - Part 4 - Base Metals
Guide to Metal Used in Designer Jewelry Making, Part 3 -Platinum
Guide to Metals Used in Designer Jewelry Making - Part 2 - Silver
Guide to Metals Used in Designer Jewelry Making - Part 1 - Gold
There are many types of jewelry settings. Here is a summary of some of the most commonly used:
Bezel Settings-
Bezel settings are the earliest known technique of attaching stones to jewelry and are still the most common way to set cabochon stones. A bezel is a strip of metal bent into the shape and size of the stone, but slightly taller and then soldered to the piece of jewelry. Then the stone is inserted into the bezel and the metal is folded or rolled over the stone, holding it in place. Some variations are called semi-bezel or half bezel, because they don't cover the entire perimeter of the stone. An example of a bezel setting is shown above.
Some bezels can have a scalloped or decorative edge and some are smooth. Generally with bezel settings the back of the stone is covered in metal, so it is seldom used for translucent or transparent stones.
Bezel settings can be labor intensive, especially if the stone is not calibrated or is a freeform shape.
Since the bezel setting securely protects the gemstone's edges, girdle and pavilion, it is consider a very secure setting and is great for more fragile stones or for active people.
A different take on traditional bezels is tube setting. The stone is set into an appropriately sized and shaped tube. You can get pre-made tubes or create your own.
Prong setting-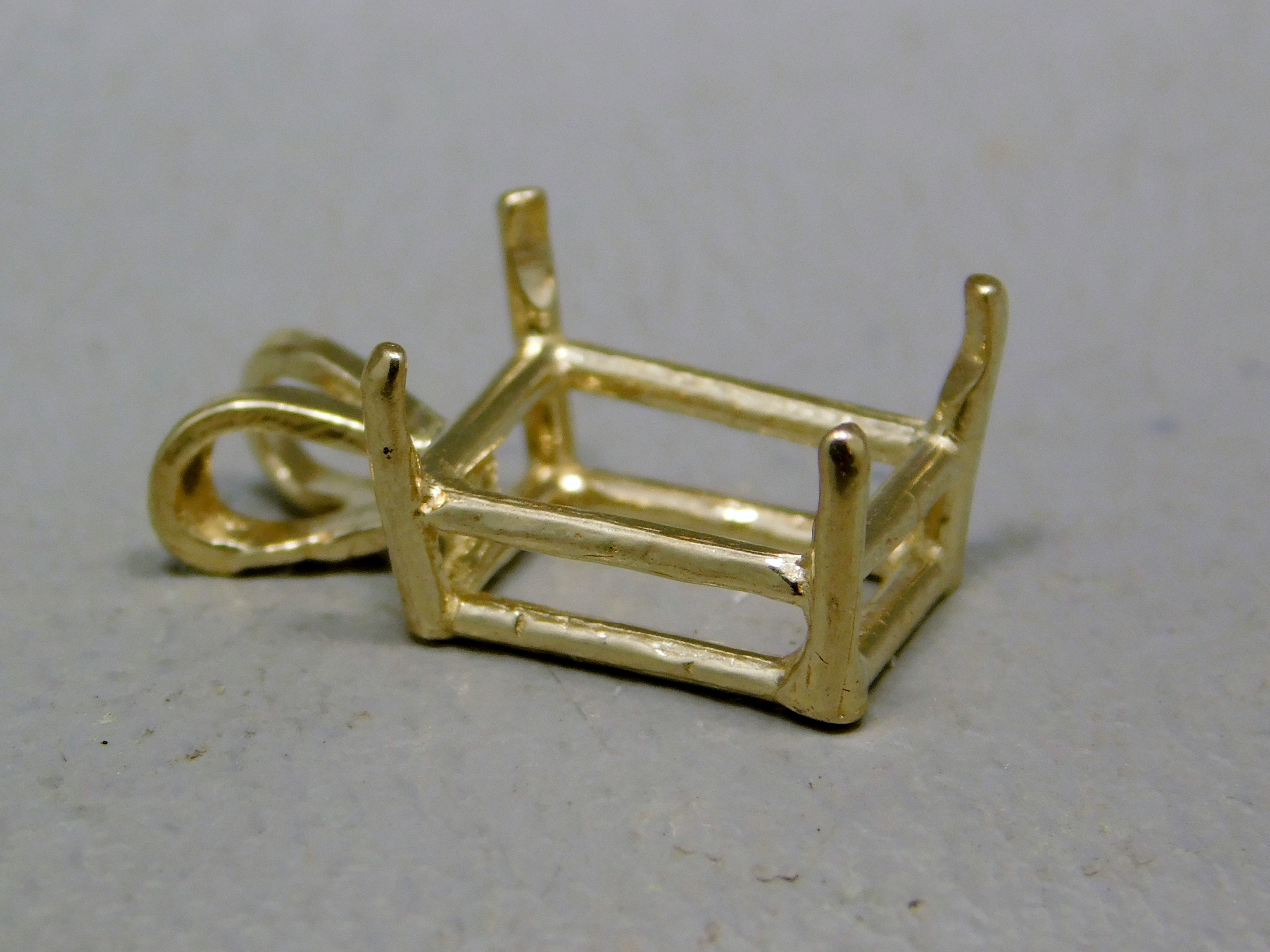 Prong setting is the most popular type of setting used for jewelry overall. It is almost always used for faceted stones, especially those that are translucent or transparent. Iit is also used for cabochons, but is best for cabochons cut from the more durable semiprecious stones.
Standard Prong settings usually feature four prongs, but sometimes have only three, and sometimes six or even more can be used for especially valuable or larger stone. The prongs are cut with a notch and bent at the edge to fit over the top of the stone, holding it snugly in place. Prong settings usually have a basket underneath, but may be attached to a base or even a solid metal backing. The basket style, as shown in the picture on the right, sets the stone high and is ideal for anyone who wants their stone to reflect the most amount of light through the stone. This basket is often referred to as a head mounting. Heads used to prong set a gemstone come in a variety of sizes and shapes, depending on the shape of the gemstone, the size of the gemstone, or whether or not the gemstone is faceted or cabochon shaped. Common shapes of heads used in stone setting include round, oval, emerald cut, princess cut, marquise cut, pear shaped and trillian cut. V-shaped prongs are recommended for a heart shaped, marquise-cut, or pear shaped stones.
Prong settings are also sometimes known as claw settings or tiffany settings, for the popular six prong Tiffany style setting that was developed by the founder of the New York jeweler Tiffany & Co. in 1886.
A prong's visible ends can be rounded, oval, pointed, chevron, flat or formed into ornamental shapes called 'enhanced prongs'. Combined prong and pave settings are common as wedding rings.
The advantage of the prong setting with a basket is that they make the gemstone the center of attention and with light reflection the stone can sparkle more. In addition, jewelry cleaning is easier. A prong setting also uses less metal and allows more of the stone to be visible. But a prong setting offers less protection to the stone than bezel settings. In addition, prongs can snag on clothing or fabric. Over time, prongs may get worn out or become loose. Getting the setting checked regularly is a good idea in order to prevent any accidental loss of your stone.
Pave setting-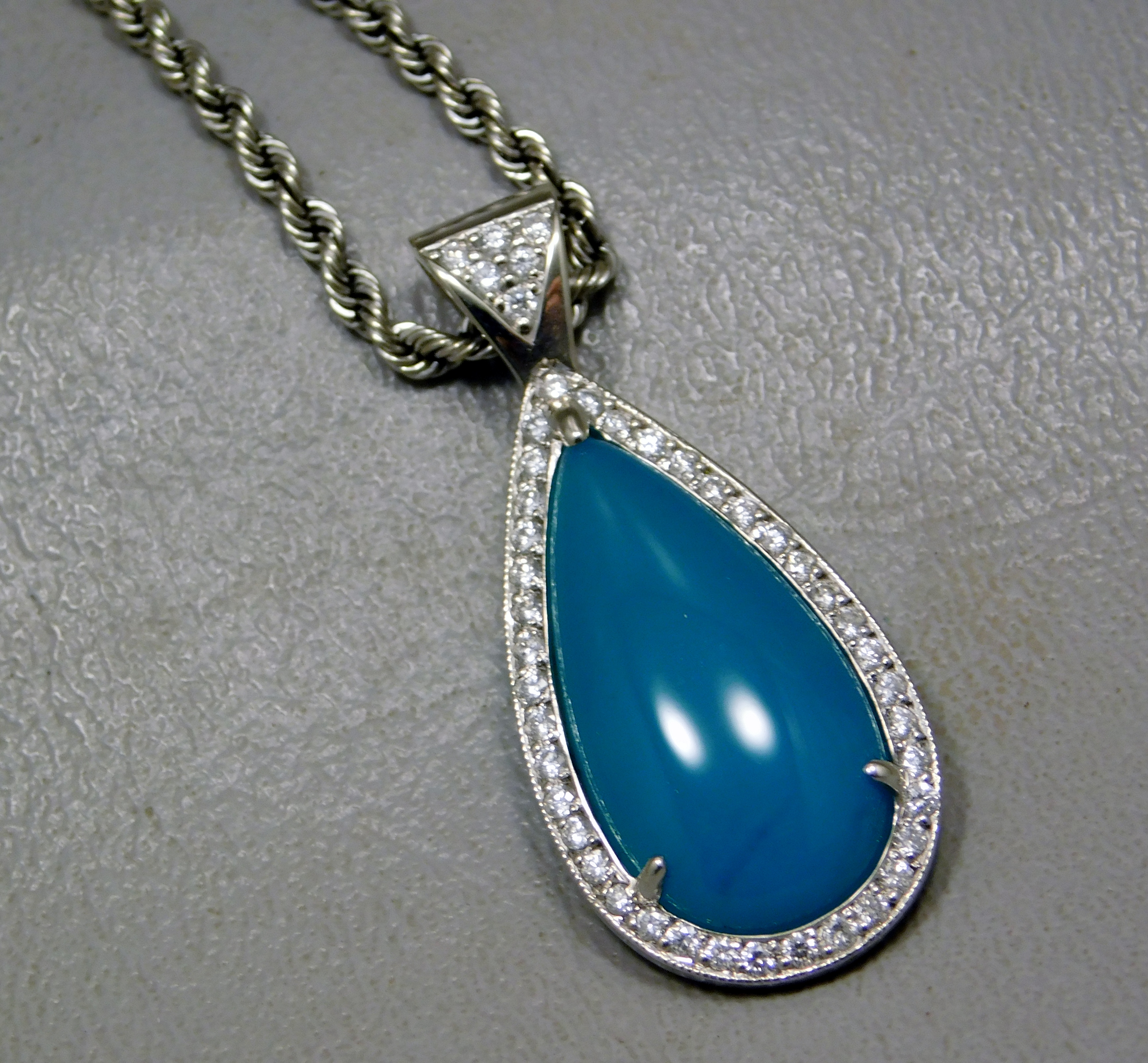 Pronounced paw-vay, Pave settings are used usually to mount small diamonds and other gemstones that are round cut. With this setting, jewelers make numerous imprints on the metallic surface that will hold the gemstone. A jeweler will fashion very small prongs that will hold the stones in place. The result is that very little of the metal is seen and the reflective properties of the stone become more prominent. This type of stone setting is most often seen in rings, but can also be used in bracelets, earrings, and pendants. It is typically used to give all-over sparkle to a piece of jewelry. And then a larger stone is mounted above the smaller surrounding stones. A pave setting for a wedding band involves placing dozens of round diamonds around some or all of the shank. It's often used in combination with other settings.
The picture to the right is an example of a diamond Pave Setting and a cabochon Prong Setting.
Pavé is derived from the French word meaning "pavement". Pavé setting appears like a sparkling street paved with identical sized stones laid across the surface.
Micro setting is a variation of the pave setting. In the micro-pave setting microscopes are used to secure very tiny gemstones in place. Micro pave settings use multiple tiny diamonds, very close together, set under a microscope.
Channel setting –
The channel setting utilizes two bars to suspend diamonds or gemstones in a channel between them. No prongs are used to hold these stones and there is no metal between the stones. Instead, they're precisely fitted into the channel tightly together and then held by the metal bars on either side. The bars are usually notched or grooved on the inside and the bars are narrower than the gemstones in order to secure the gemstones in place. Some jewelers fashion them to be narrower at one end, but most feature equal bars that run completely parallel with stones present all around the ring.
Channel setting is widely popular in wedding bands and tennis bracelets. It is said the 'tennis bracelet' was born at the 1987 U.S. Open when the clasp of a Diamond bracelet, worn by tennis star Chris Evert, broke. The game was actually interrupted to allow her to recover her bracelet.
Pressure Setting-
Pressure setting uses the pressure of the metal in the ring's design to hold a diamond or stone in place. Typically, a larger round stone is placed in the middle, and then surrounded by seven or more round diamonds or other stones using a more traditional prong-style setting. The pressure of each stone holds every other stone and the center in place.
Tension Setting-
A tension ring is a type of ring that holds a gemstone in place by pressure rather than prongs, a bezel or other mounting. The metal setting is actually spring-loaded to exert pressure onto the gemstone, and tiny etchings or grooves in the metal create a shelf that supports the gemstone's edges. The gemstone appears to be suspended in the air with nothing holding it in place.
Tension settings must be calibrated to the exact specifications of the stone that they hold, therefore they must be made for a specific stone and they are very difficult to resize. The tension setting is calibrated by a computer, using light to identify the exact places the mount must apply pressure on the gemstone to avoid fracturing it through uneven pressure distribution. Because tension settings place such pressure on the stone, only four types of harder gemstones registering 9 or higher on the Moh's scale, can be placed in a tension setting safely: diamonds, rubies, moissanite, and sapphires.
Invisible setting-
Invisible settings are a setting in which the mountings of a stones are not visible to the naked eye. Invisible setting rings, earrings, necklaces and pendants usually appear to hold a floating set of gemstones. In this setting, grooves are cut below the girdle of each gemstone, which is then fit into a metal framework that remains hidden. Although invented two centuries ago, it did not gain popularity until the 1990s.
Invisible settings are one of the most difficult and intriguing settings in jewelry. It looks like the stones or diamonds are uninterrupted and seamless across a piece of jewelry, although they are held in place by grooves cut below the girdle and the grooved stones are slid into a metal track of a ring or pendant. Square, princess, emerald, baguette, and trillion cut precious gemstones work best in invisible setting rings and pendants.
Illusion setting-
Illusion setting has the stone placed in a collet of reflective and brightly burnished metal. Then the metal edges are cut or shaped, so that when bent around the stone, they create the illusion of being a part of the stone. Such a setting is used mainly for a small diamond, to make it appear larger.
There are lots of jewelry setting sellers online. We love Blue Nile for choosing your own diamond and the setting to put it in.
If you are a wholesale buyer, our favorite supplier for precious metal jewelry settings is Stuller. They have such a huge supply-this is their 2019-2020 catalog!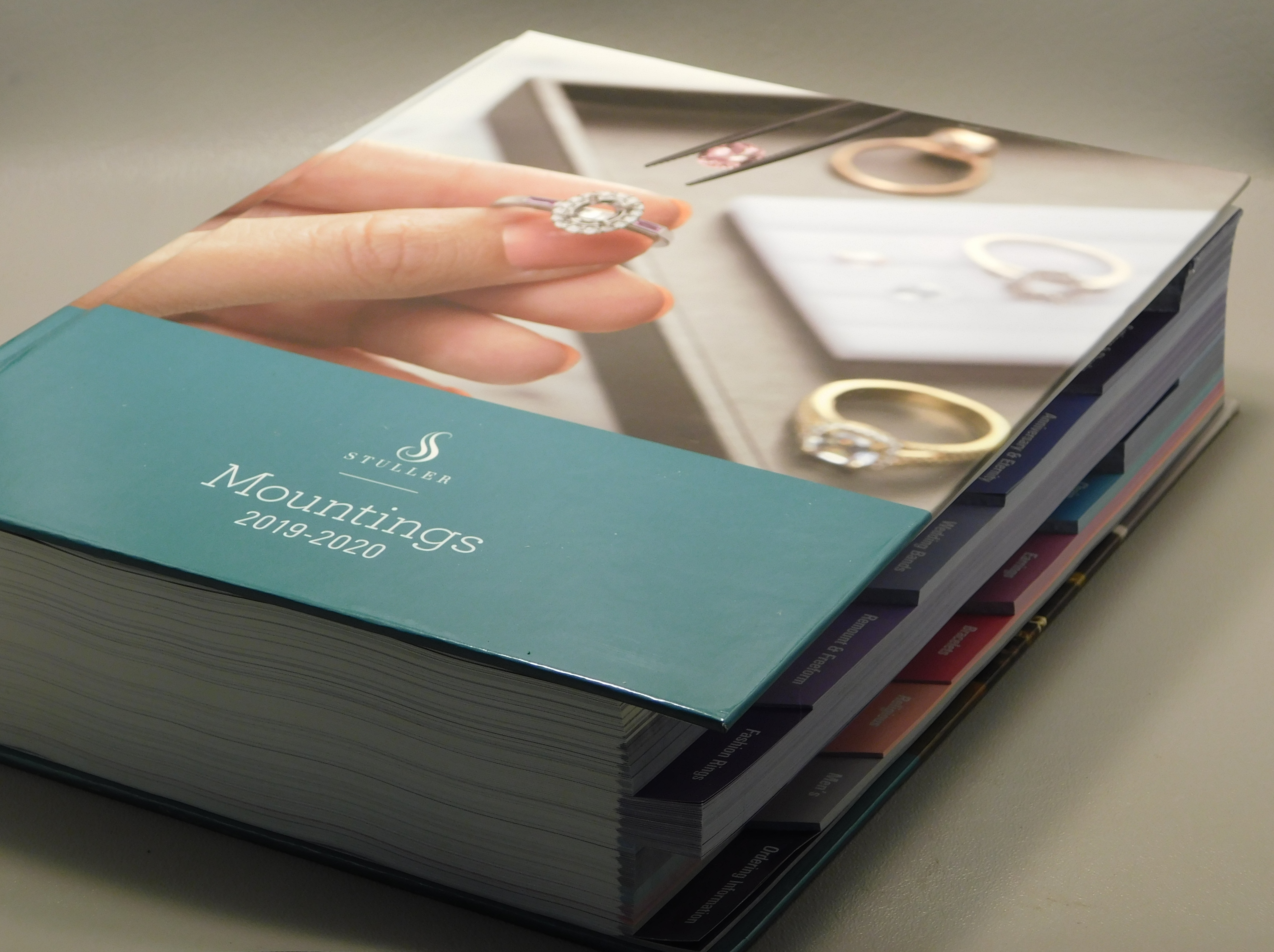 Jewelry settings can be constructed from parts or findings, or cast as one solid piece. Custom jewelers design their own settings using many techniques-some of which we may examine in future blogs so stay tuned!
Usually designer cabochons are cut to enhance the pattern and may be cut in specialty shapes, making it necessary to design the setting specifically for that stone. Standard settings can be bought to fit calibrated or standard size stones. These settings may be easier for beginner jewelers or hobbyists to work with and are sold under names such as Easy Mount Stone Settings, Snap-Tite Stone Setting®, Snap-Set Stone Settings™, ReadySet™, etc.
These types of jewelry settings are available from Rio Grande or Fire Mountain Gems. You match the size and shape of the stone to the size and shape of the setting. For the Snap-Tite settings, when pressure is applied by pushing the setting against the stone, it snaps into the setting. You place the flat portion of the stone face down, then press the setting over it so the prongs engage. You may additionally use a pair of pliers to push the prongs more securely on the stone, although this is not required in the instructions. You could simply use these settings without needing any tools.
The Easy Mount settings are easy to mount, just as the name implies. It is recommended that gem setting pliers be used with these types of settings. The pliers are designed to create the force needed to close the prongs without having to worry about using too much force and possibly damaging the stone. These settings are ordered to match the size and shape of the stone. The stone fits into the notches that are already cut into the setting. Then the pliers are used to compress the prongs around the stone. Our favorite supplier of inexpensive easy mount settings is Tripp's.
Also many craft stores and online businesses sell costume jewelry or non-precious metal settings that are great for simply gluing a stone or stones into or on a flat surface and you'll have a finished piece of jewelry!
Thanks for reading and check back for future how to blogs on various ways to set cabochon stones into jewelry!