Jewelry findings are jewelry making supplies that aren't settings, or stones.
In historical times jewelers had to hand make all the parts of their jewelry themselves. Because, even long ago precious metals were expensive, they would keep all the little bits and scraps, even the filings, and reuse these pieces to make the small parts they needed to finish their jewelry. Eventually these leftover bits, and then the components made from them, became known as "findings".
As time went by, jewelers became more specialized in what they make, and a whole industry of wholesale shops that supply just the jewelry findings to the jewelers evolved. Most of these parts are no longer hand crafted, nowadays they are mostly stamped out or cast. They can be found in most of the precious and base metals mentioned in my previous articles about metals used in jewelry.
Here is a list of some of the more common jewelry findings or jewelry making supplies and what they are used for: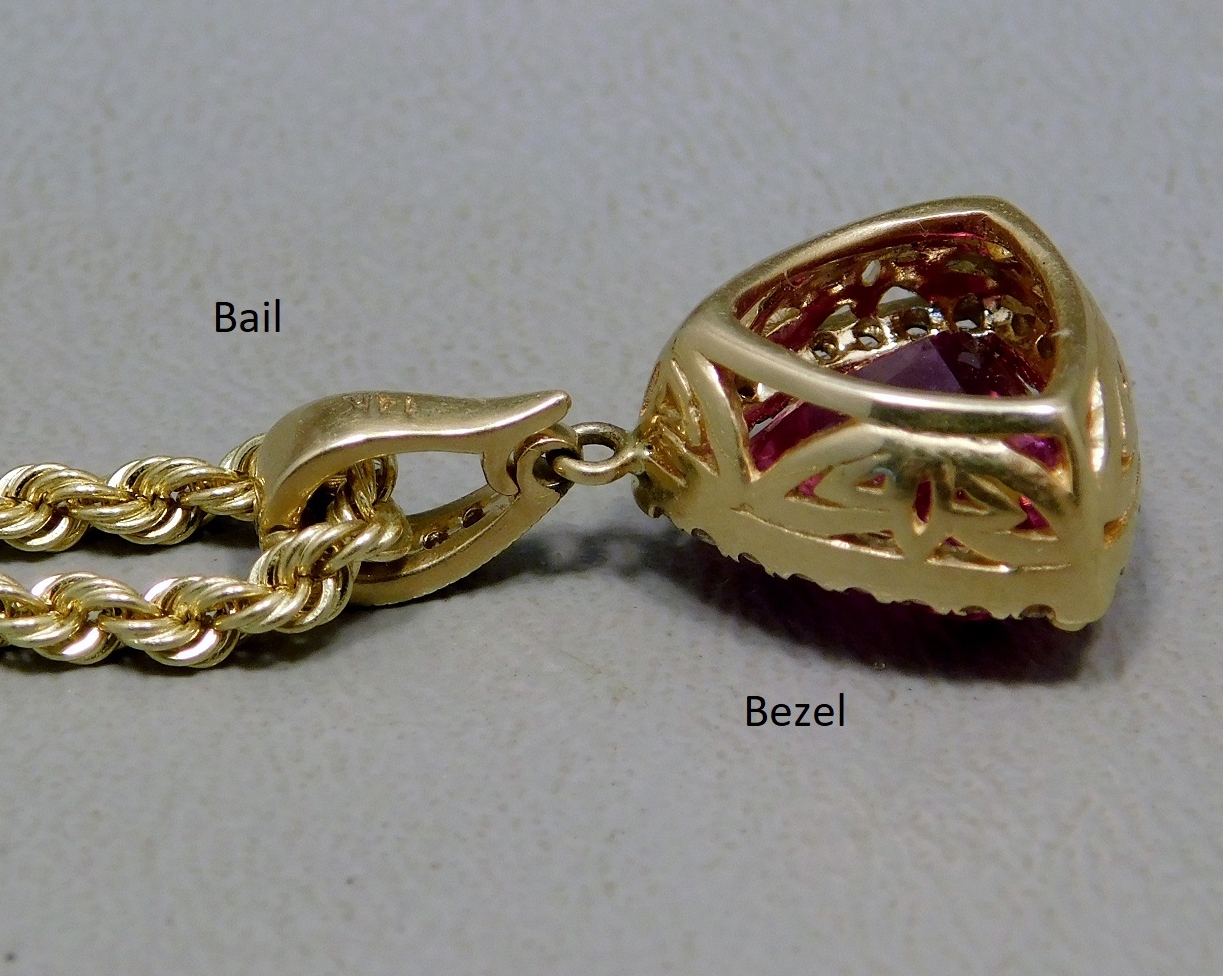 Bails- The bail is a loop that is used to attach a pendant or charm to a chain or bead necklace. The chain or cord goes through the loop and they come in several varieties to attach the pendant, stone, or charm.
Bezel- The bezel is the part that holds the cabochon stone. It can be a cup that the stone fits into or a wire that wraps around the stone.
Bead Caps and Pendant Caps- These are generally lightweight cups that fit over a bead or used to hold the tip of a stone or pendant. Sometimes they have a pin that is inserted and glued into a drilled stone, and a loop on top that attaches to the bail.
Bead Tips, Cones- Bead Tips (Also called Double Cup Connectors) are small components that are used for hiding knots in bead necklaces and for connecting to clasps. In multi-strand bead necklaces Cones are used to hide the knots.
Belt Buckles Blanks- Used to make a belt buckle. A cabochon can be glued onto these or they may have a cup to fit the stone into.
Bolo Parts- To make a bolo you need a bolo back, which is usually a special piece that you run the bolo cord through to loops and the bolo will then slide up and down the cord. You also need the bolo cord, commonly a piece of braided leather, and you need two bolo tips- decorator pieces that slide on the ends of the cord and crimp into place.
Chain & Chain Ends- A large variety of metal chains can be used to make necklaces or other items you want a chain for and Chain Ends are soldered on the end with loops to add the clasp to.
Clasps- Perhaps the most important jewelry finding, clasp are used to connect necklaces. Some common types of clasp are: Toggles- which is basically a bar that fits thru a loop, Spring Clasp- which springs open and connects to a jump ring, S Clasp- shaped like a S, Magnetic Clasp- which "stick" together, Barrel Clasp- which screw together, and Lobster Clasp-which are considered the most secure.
Clips and Holders- These can include Money Clips, Keychains, Spring Clips, or Suspender Clips.
Crimp Beads & Tubes- Used to end a strand of beads. The string is thread back and forth through it and then it is crimped tight by flattening and then crimping with crimping pliers.
Cord Ends- (Also known as End Crimps or End Connectors) These are used on the end of leather or other cords. They basically glue onto the end of a cord and have a hoop to connect the clasp or closure.
Cuff Links Blanks- Used to make cuff links, these usually have a flat surface for gluing a cabochon to or a cup to hold the stone.
Earring Components- There are several components used to make earrings. The Fish Hook is an open wire bent in a u shape usually with a hoop on one end to connect to your earring. A Kidney Wire is similar but hooks closed. A Hoop is a round circle that also closes. A Chandelier will have several hoops on the bottom to hang several dangles. An Ear Post with a Nut is a stud earring with a hoop attached to hang a dangle from. The back of a stud earring is referred to as an Earring Back or an Earring Nut. And there are also Ear Clips for those who don't have pierced ears.
Eye Pins- Used for making linked bead chains or dangles. They are a piece of wire with an open circle at one end. Thread beads on pin leaving about 1/4" of bare pin. Form loop at open end using round nose pliers. Then add to another eye pin charm, earrings, necklaces, etc.
Head Pins- Used for making bead chains or dangles and perfect for charms. A head pin is similar to an eye pin, only it has a head instead of a loop.
Hair Findings- Used to design jewelry to be worn on the head or in the hair. These can be bobby pins, combs, hair clips, or head bands for tiaras.
Jump Rings & Split Rings- Rings are used as connectors. A Jump Ring is a ring with a split. They are commonly used to connect clasp. You pull them apart (not twist) and then push them back together. A Split Ring has two loops and you slide between the loops, like putting a key on a key chain.
Pin Backs- Pin Backs are used as a base for pins and brooches.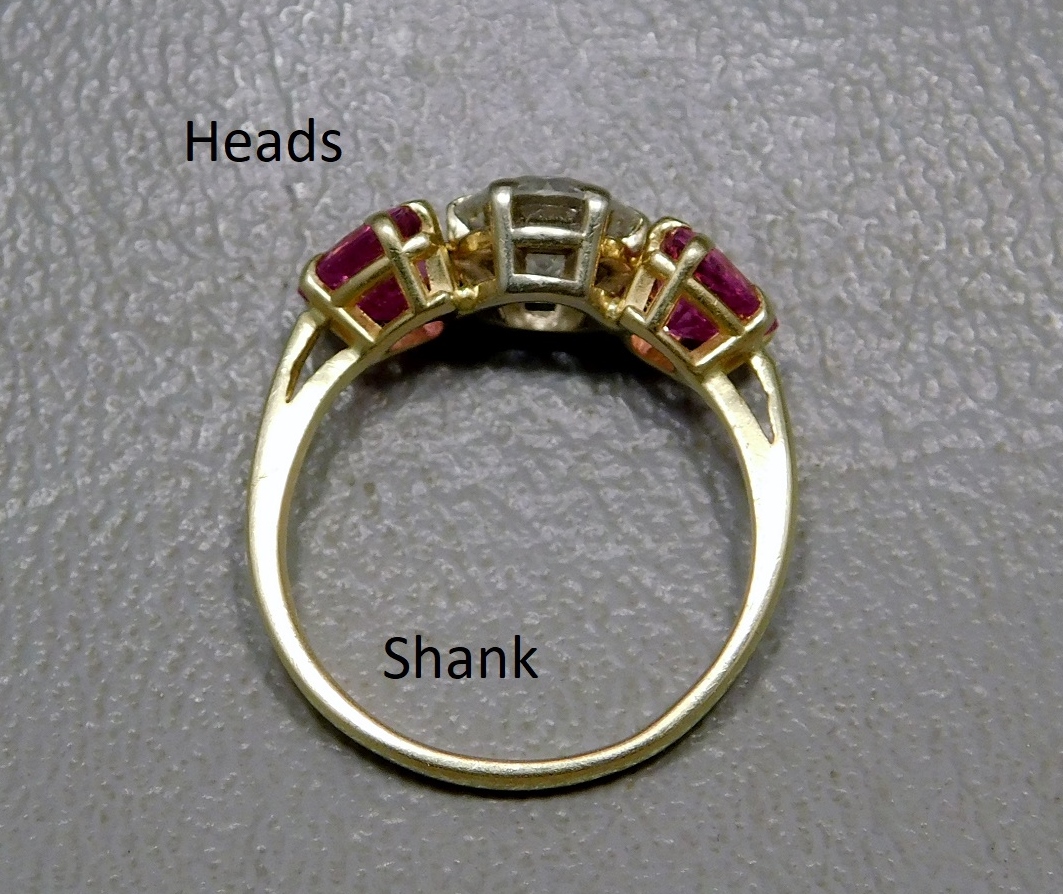 Prong Head- Often referred to as just a Head, this is the part that the stone, usually a faceted one, sits in. They are similar to a basket with 4 or 6 prongs that hold the stone.
Shanks- Shanks are the part of the ring that fits around the finger.
Spacer Beads- used to create a space between beads are to separate out a focal point bead.
(See our great selection of Focal Point Bead Pendants!)
Tie Tacks or Bars- Tie Tacks are usually flat heads with a pin and back and Tie Bars are long clips.
________________
Here at Barlows Gems we provide the best cabochon stones for jewelry!
You can find jewelry findings in lots of places, including your local craft store.
We like Fire Mountain Gems for inexpensive jewelry findings.
And if you have a resale license you can register at Stuller for the best quality of high end findings from precious metals.