Showcase and Reviews
Reviews are so important these days. It is how I decide what to purchase online. However our products are one of a kind! So here I have decided to post some pictures of our customers work (what they made with our products), as well as reviews and testimonials on the products we provide!
If you would like to send us your comments or pictures of what you have made-please do so and I will put them here!:
Greetings from New Zealand
Just received my package of your beautiful cabochons today down here in New Zealand. I think this is the third lot I have brought and they are always exactly how they look in your photos . Your website is really easy to use. Also the information you put with them is great too, as to where they are from etc, and they are beautiful in my hand . I love making jewellery with them. So a Big Thank you
Kind Regards, Scott
____________________
I love buying from Barlows Gems.
Their perfect cuts of the highest quality rocks makes a simple jeweler like me shine.
The knowledge and customer service makes me a regular.
Sarah from 'Wear Your Rocks'
__________________
I set my first stone this summer. So happy (and relieved) that it turned out well. Thanks for offering such beautiful stones. My brother said it looked like the eye in the mountain on Lord of the Rings. I love it.
Wanted to share. pjo
____________________
Dear Barlows Gems:
I received my gems and I am SO VERY HAPPY!! They are beautiful. Thanks for providing such quality stones. I couldn't be happier. Thanks, again.
____________________
I just wanted to share this picture with you. I finished the piece today. I bought the stone from you last Friday. The etched accents are brass mounted on silver.
I really love your stones!
Thank you.
Marilyn Scott
Scoti Creations
www.etsy.com/shop/scoticreations
______________
I guess you have to show the good with the bad-so here goes...
Recently a customer contacted me with a complaint. See, as many of you already know, we display our cabochons at Gem Shows up on boards with Velcro dots. Unfortunately I don't always think to take these off when I send a cabochon to a customer-so to those who have received a cabochon with a Velcro dot on the back-I sincerely apologize! I will try much harder to do that before I ship them.
___________
A gorgeous piece of custom bead work around one of our rhodochrosite cabochons!
-Jems by Jill
__________
"Gorgeous! So glad to have found you!"
-Diana Alexander Design
__________
"My order arrived and I'm very, very happy with the gems! Thank you so much."
- Jason
___________
"Just finished this commissioned set. Thanks for the fabulous cabs!"
-Barbara Harrick of Studio Agate
___________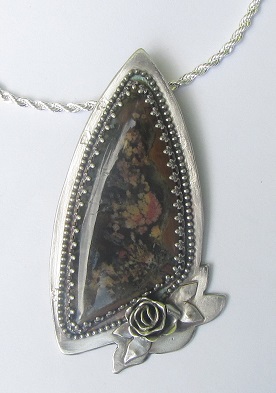 "What I accomplished with my purchase of your beautiful PRIDAY PLUME AGATE. I hope you are as pleased as I am. Thank you for letting me share."
Laurie Kollins Mtn. Home, Arkansas
__________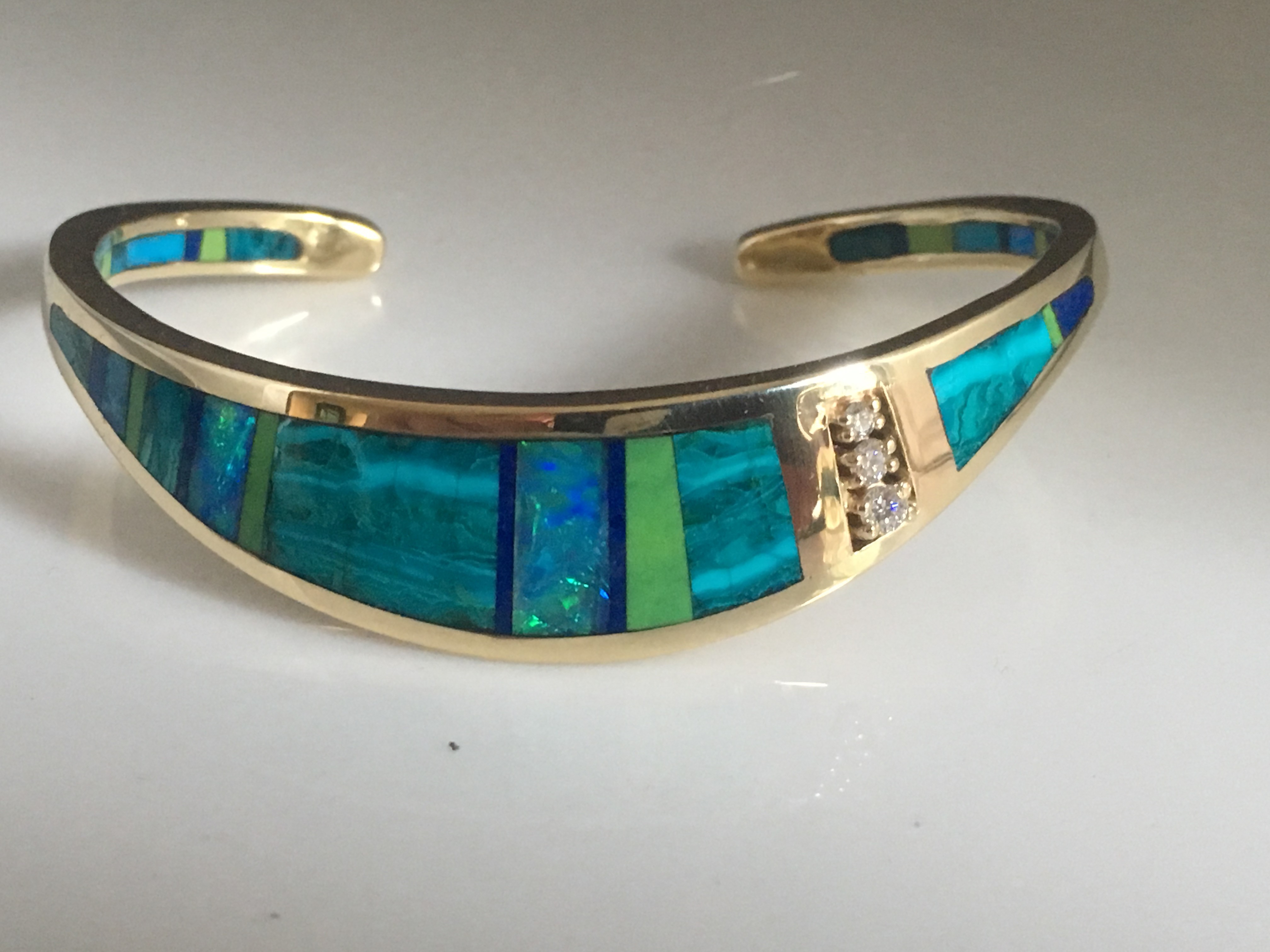 This beautiful cuff bracelet was made by Betsy Bracken from our polished Chrysocolla slabs!
________
"Great seller Fast shipping excellent specimen" -ebay buyer of Covellite match pairs.
We have been on ebay under oneofakindrocks for over 20 years-see more feedback here:
_______
"Nice quality!

I am happy that I could get this stone I wanted.
Thank you very much!"
-review from Etsy buyer
We have been on Etsy under Barlows Gems for over 5 years, see our feedback here:
__________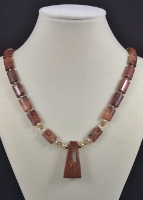 Another custom made bead necklace using one of our bead pendants, by Mare Hermanson of Lovewell Beads.
____________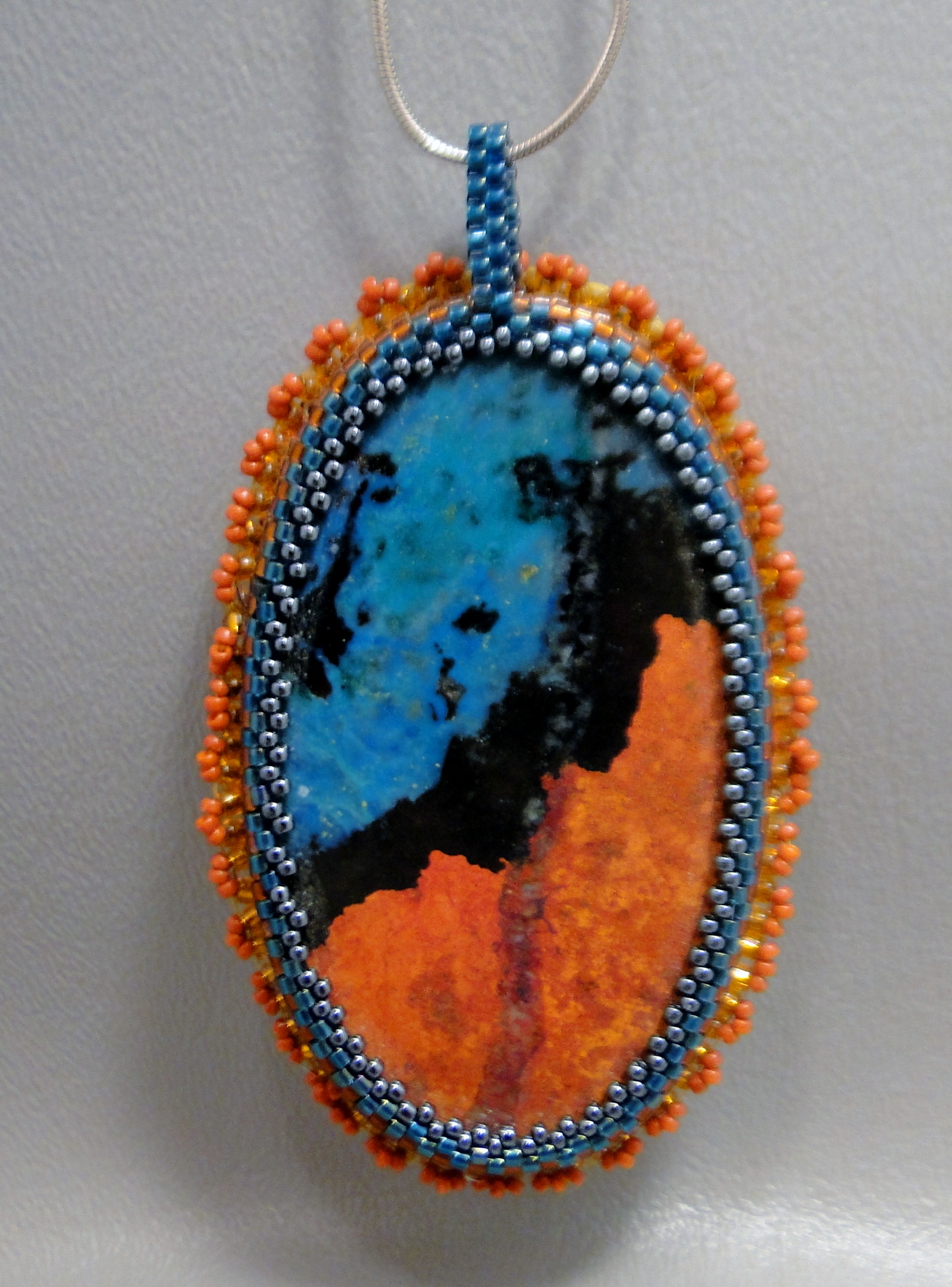 One of my favorite customers, Pat Carpenter, does this lovely beaded bezels with our cabs.
Keep an eye out for more one of a kind jewelry, custom made from our specialty designer cabochons,
by our amazingly talented customers.
(Remember-If you are putting a lot of hours into a special piece-don't use an ordinary cabochon,
when you can find extraordinary ones right here on our site!!)