"The only constant in life is change"
Okay, so it has been over 20 years since we moved from the Merchandise Mart to the (then) Holiday Inn at I25 and I70. Which later became the Ramada Inn (and as I understand it, is now the Radisson, but I digress...)
Once again our Denver Gem and Mineral Show location is changing -
Here's what you need to know if you want to attend the September 2017 Show:
The ENTIRE Colorado Mineral and Fossil Show usually held at the (former) Holiday Inn is moving to the:
Crowne Plaza Denver Airport Convention Center!
15500 E 40th Ave
Denver, CO 80239
303-371-9494
We are very excited about this move. It is about 12 miles to the east of our old location, 9 miles to the east of the Coliseum, and about 13 miles from the Denver International Airport.
The area is so much nicer! No freeway traffic, sirens, and worse yet-construction!
With lots of local hotels, and plenty of nearby restaurants. (Outback Steakhouse-my favorite!)
We will have lots more parking.
Over 150 dealers!
All your favorite dealers will be there:
In the WHOLESALE section: Top Gem, Collector's Edge, Midwest Minerals, VicJon, Red Metal Minerals, Artifactual, Minec, Paritas, Usman Imports, Moussa Fossils, RAJ Minerals, Rock 3000....
and elsewhere: Costigan's, The Clam Shell, Rare Earth, Don Olsen, Jewel Tunnel Imports, Jeanne's Rock Shop, John Garsow, Sahara Seas, Straborn CPH....
And best of all for us-we will finally have an indoor space. No more snow, rain storms, dust and dirt, or hot stones. LOL
In order to celebrate this change we will be bringing a lot more inventory.
We have stocked up on the Animal Carvings. Get there early-they sell out fast!
We will bring along some high grade specialty cabochons and we have expanded our new line of "Rocks in Boxes". Natural rough lapidary rocks and crystals sold by the flat especially for rock shops and retail stores.
So come see us at The Denver Gem and Mineral show, will be in the Wholesale Room, Convention Center C.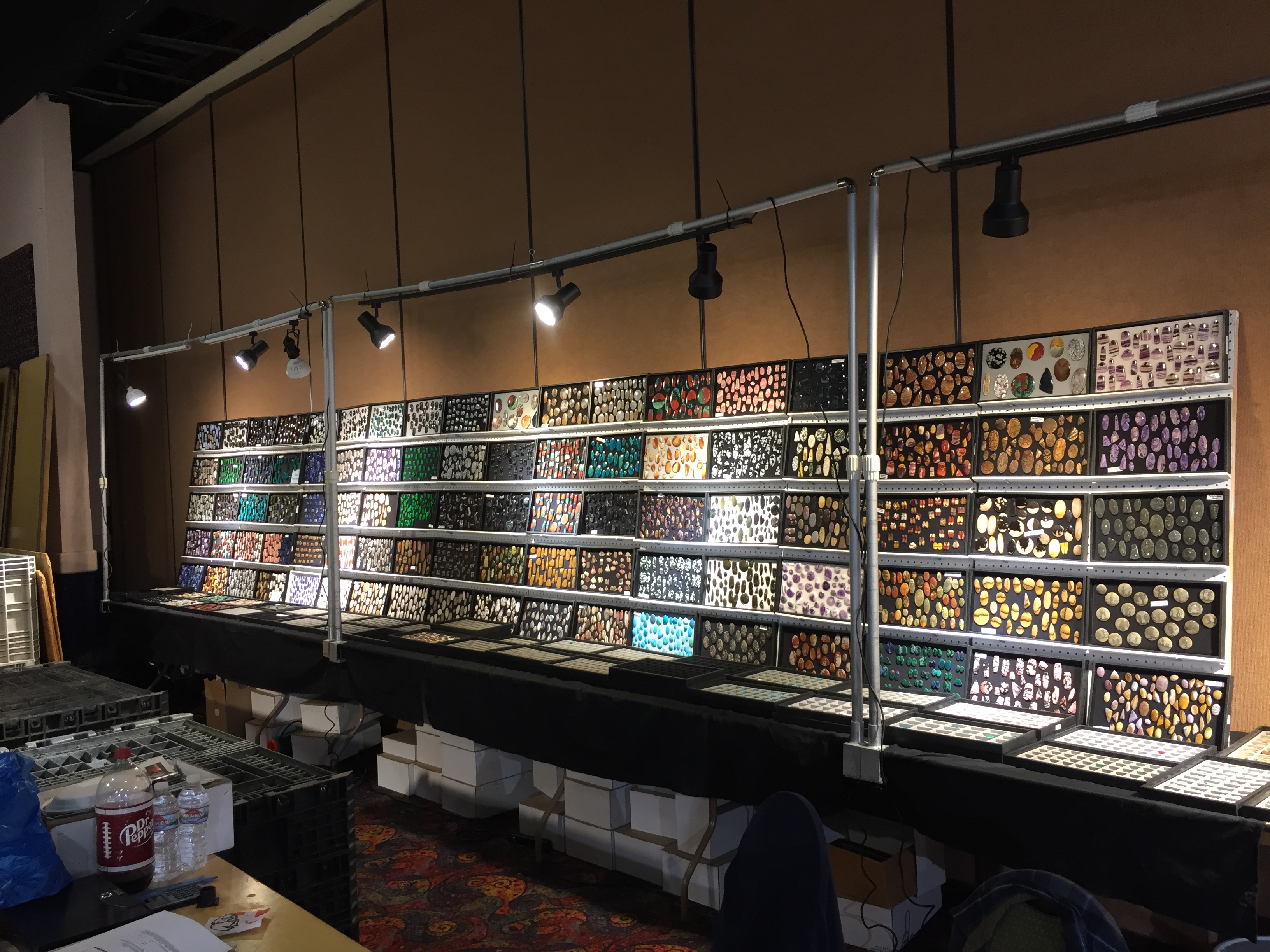 For more information on the Denver show visit Rocky Mountain Gem and mineral Promotions.