Though most semi precious stones are very durable in jewelry, care must still be taken to maintain and protect your cabochon's polish and beauty, both when setting and when wearing.
As most people are aware, stones have varying degrees of hardness.
First off, common sense should be used when dealing with your cabochon jewelry.
You should remove your jewelry when engaging in activities that could put it at risk (Something I'm horrible about doing! Yes, I have worn the top off a Garnet). This may include digging through rocks, gardening, sports, cleaning, and exposure to harsh chemicals. Some jewelry should be removed when swimming. Chlorine is bad for white gold and can be hard on some stones.
Remove your jewelry (or avoid getting it covered) with lotions, sunscreens, cosmetics, perfume, etc. Hair spray is especially tough on jewelry.
Be very careful about prongs when dressing, especially with items with loose stitching like sweaters.
Cabochon jewelry should be stored separately or in pouches so stones don't rub together.Different hardnesses can cause them to scratch each other. Chains should be stored hanging or flat so they don't get tangled or kinked. Some stones can fade and you should never store your jewelry in direct sunlight or in extreme temperatures.
Wipe your jewelry with a soft lint-free cloth to remove dirt or oils. Gold and silver can be cleaned with a rouge cloth, but avoid wiping cabochon stones with it. It also works great on metallic cabochons-such as Native Copper, Native Silver, Apache Gold, etc. The rouge side shouldn't be used on your other cabochons.
Here's some before and after pictures of a Chrysocolla Malachite cabochon jewelry piece:
: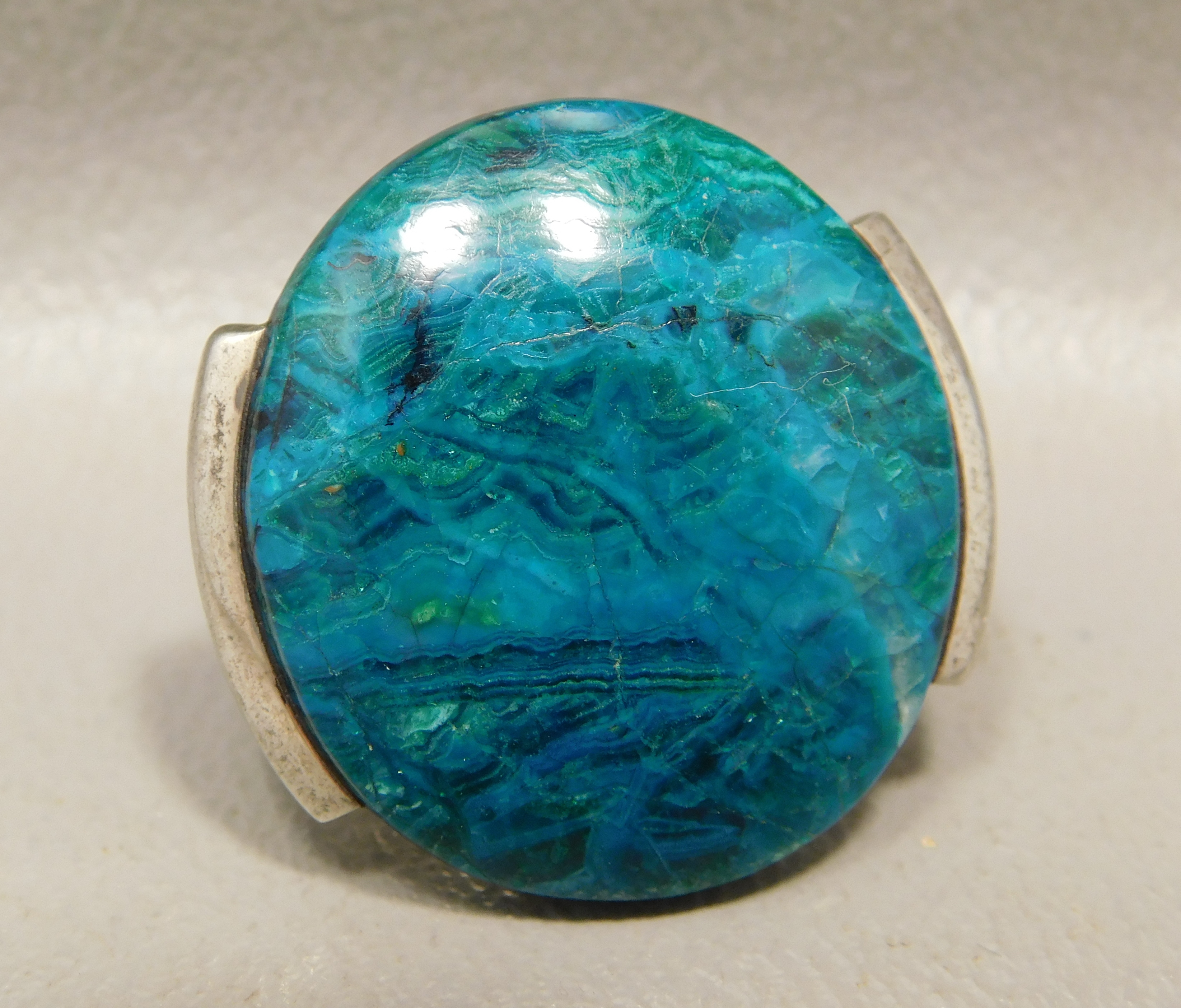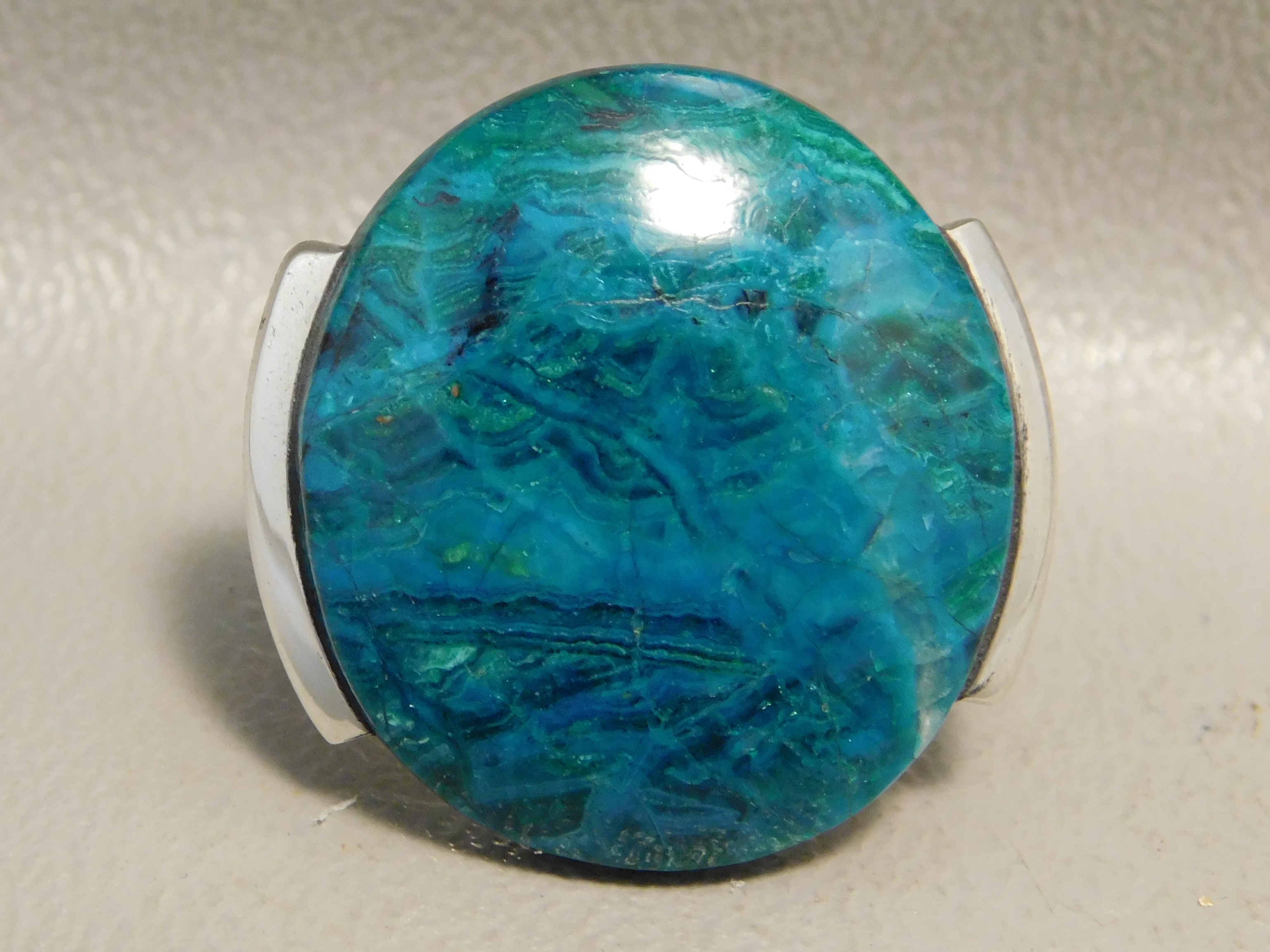 You can buy a rouge cloth at your local rock shop, jewelry supply store, or on Amazon:
This beautiful ring, by the way, was a gift to me from our customer and good friend Bunny Bedi. You can see more of his gorgeous work here: Made in Earth
While ammonia and vinegar are good cleaners for your gold and diamonds or precious stones, most semiprecious cabochons should not be cleaned with harsh chemicals.
You can clean some of your jewelry with a soft toothbrush and a non-abrasive soap, such as Palmolive or a special soap made for jewelry cleaning. Use warm, not hot water. Stones with a 7 or higher hardness, such as agates, jaspers and quartz should be fine cleaned this way. I like to keep a old soft toothbrush in my shower and just give my jewelry a quick scrubbing.Be very mindful of that drain though, especially if you take the jewelry off to clean it! You can throw a washcloth over it to avoid accidents.
We do not recommend using mechanical cleaners, such as ultrasonics as they can occasionally damage some stones.
Some opaque stones, such as chrysocolla, turquoise, lapis, or malachite are very porous and can be discolored by ammonia or harsh chemicals. These stones should never be soaked. It is best to just wipe these with a damp cloth.
Opals are especially vulnerable and require special care.Never use harsh chemicals, and avoid heat and strong light.
Organic stones such as pearls, coral and amber should also only be cleaned with a damp cloth. Be especially careful with these with lotions, hairspray, cosmetics, cleaners, etc.
Take the time to occasionally examine your jewelry. Check that the prongs are secure. I am very hard on my prongs and actually have to have them retipped every so many years.
If your ready to store shopping for that special high grade designer cabochon for your custom piece of jewelry start shopping here: Barlows Gems