The bola tie is a piece of jewelry worn around the neck and under the collar.
A bolo tie is an unusual piece of jewelry that is associated more with western wear and is therefore more known in the western United States.
It usually consist of a larger semi-precious stone, or other object set, in a simple setting with a backing designed to slide on a cord or braided leather. The ends of the cord or leather are decorated with decorative metal tips.
Though more commonly made of sterling silver, the bolo tie setting can be made of different metals, even gold.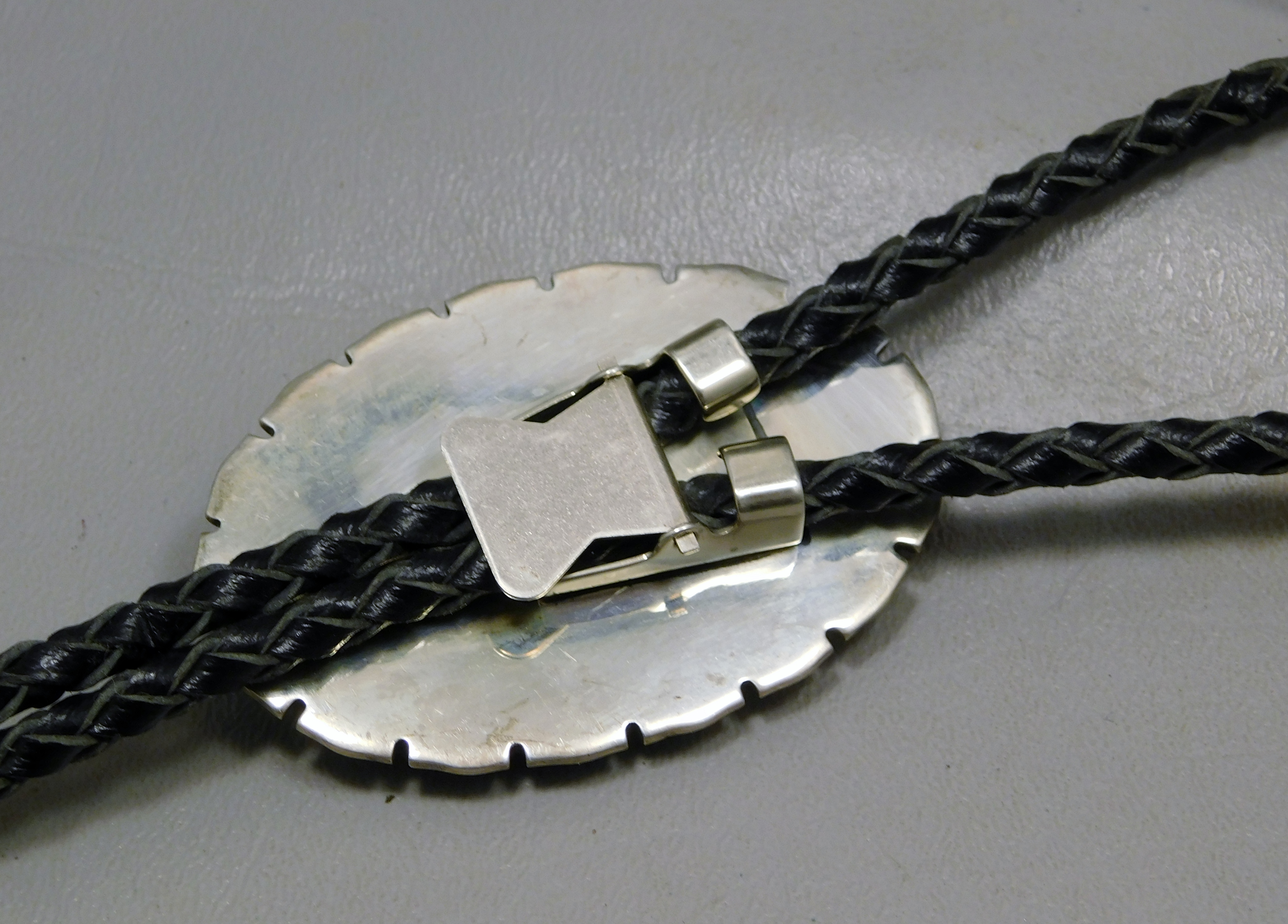 Bolo ties are actually easy to make.
You can find inexpensive "settings" at your local craft store or at a jewelry supply store, and you can also buy more precious metal settings at a jewelry supply place or online. You can even find bolo tie supplies or kits on Etsy! You can purchase the "slide" and simply super glue or epoxy it to the back of one of our beautiful and unique semi-precious gemstone cabochons. The larger stone cabochons work best and you would have a one of a kind beautiful piece of jewelry that can be worn by either sex!
History of the bolo tie:
Dentist and metallurgist, Dr. William E. Mangelsdorf, of Kingman, Arizona, claims to have invented the bolo tie in the late 1940s, and later patented his slide design. However, bolo tie slides and tips in silver have been part of Hopi, Navajo, Zuni, and Puebloan silversmithing traditions since the mid-20th century. It is believed the Native Americans first invented the idea when they wore bandanas or scarfs around their necks and used a decorative tie to clip them together.Bolo ties appeared in western wear catalogs in the 1950's. William Meeker of Rochester, N.Y. applied for a patent in 1953 for what he called "apparel for neckwear".And Victor Cedarstaff, of Wickenburg Arizona filed a patent for his "slide for a necktie," in May 1954, and it was issued in July 1959. He claimed he came up with the idea when he had to tie is hat to his head. In any event, by the late 1950's bolo ties were quite common. Then they went out of favor about the 1970's, and saw resurgence in the 1980's when some Hollywood stars sported them. John Travolta wore one in "Urban Cowboy". Bruce Springsteen, Ronald Reagan, Jackson Rathbone, Patrick Swayze, and Bon Jovi and many other famous individuals have worn them. Long time Phoenix TV anchor, Bill Close, was known for always wearing one and in fact after he died the Northern Arizona University accepted his collection of over 250 bola ties and then later donated it to the Desert Cabelleros Museum in Wickenburg, Arizona.
Through the years bolo ties have been called or promoted under various names: Bolo Tie, Bola Tie, String Tie, Gaucho Tie, Neck Rope Tie, Lariat Tie, Cowboy Tie, Western Tie, Thong Tie, Sport Tie, and more.
The bolo tie was made the official neckwear of Arizona in 1971 and in 2007 New Mexico and Texas both made it their states' official tie. Currently they are out of fashion, though they are still around and still worn in the southwest. However, as with all fashions I believe we will see them again. Somebody in Hollywood will wear them in a movie and suddenly everybody will want one again. Perhaps your design will be the one that regenerates interest!
Happy Hunting!