Bead Necklaces by Mary Hermansen using our Drilled Stone Bead Pendants
I just had to share! A wonderful customer of ours, Mary Hermansen recently sent me some pictures of her beautiful creations using our drilled stone bead pendants as Focal Point beads.
She stated "Thank you for making such lovely side drilled cabs - they are beautiful and a lot of fun to work with."
I really love her designs and style.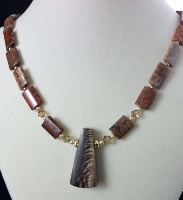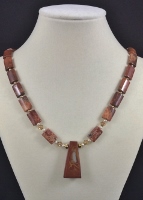 If you don't want to create your own check back soon as she also stated, "I have been busy all summer making necklaces and designing my web page that I hope to launch by mid Oct. I wanted to share some of my photos with the necklaces I made with your gorgeous cabochons." I promise to update you all as soon as I have her website address. Wouldn't these make great Christmas gifts. Though I must confess-I would definitely be looking at the Chrysocolla-Malachite one for myself!
UPDATE! Thank you so much Mare! I now own this lovely Chrysocolla one. And she has graciously offered to make custom necklaces for my customers! If you see a bead pendant but don't do beading or know what to wear it on-contact Mare Hermansen at lovewellbeads@gmail.com and she can make you your very own unique bead necklace. Her website is www.lovewellbeads.com